ABOUT NICESTUFF: BECAUSE EVERY MAN DESERVES NICE STUFF
We get it: You may not know why you like something, you just know you like it. Probably because it's nice. And we happen to think every man deserves nice stuff. Founded by a born-and-bred New Yorker/designer, NICESTUFF was born of a simple concept: Let's not sacrifice style for comfort. Let's have our single-malt whiskey and drink it, too, because you deserve both.
OUR STORY
FOR MEN ON THE MOVE
It all started in 2019
New Yorkers joining zoom meetings or running into the office like they were stepping out of the gym. Sure, the gym gear serves a purpose, but that purpose isn't work (spoiler alert: it's the gym). We didn't blame our fellow man because it wasn't his fault. You were forced to choose comfort or style—you couldn't have your whiskey and drink it, too. As New Yorkers and designers, we thought it was a travesty. After all, we're the city of New York Fashion Week and the Met Gala. With that, NICESTUFF was born. Because we believe men deserve comfort and style.
Of course, a global pandemic later, comfortable menswear is more relevant than ever before, and we're proud to be the first to market. That's what a career in the fashion industry will do—help you spot trends coming before pandemics make them popular. So, whether you work from home or an office, do yourself a favour, and start dressing like a damn gentleman.
Comfort without compromise
Comfort
What do you wear when you can't wear a t-shirt, sweatshirt or sweatpants? The short answer: Any NICESTUFF garment. Why? Because we work with an ultra-fine cotton that's softer than the fleece lining inside your sweats.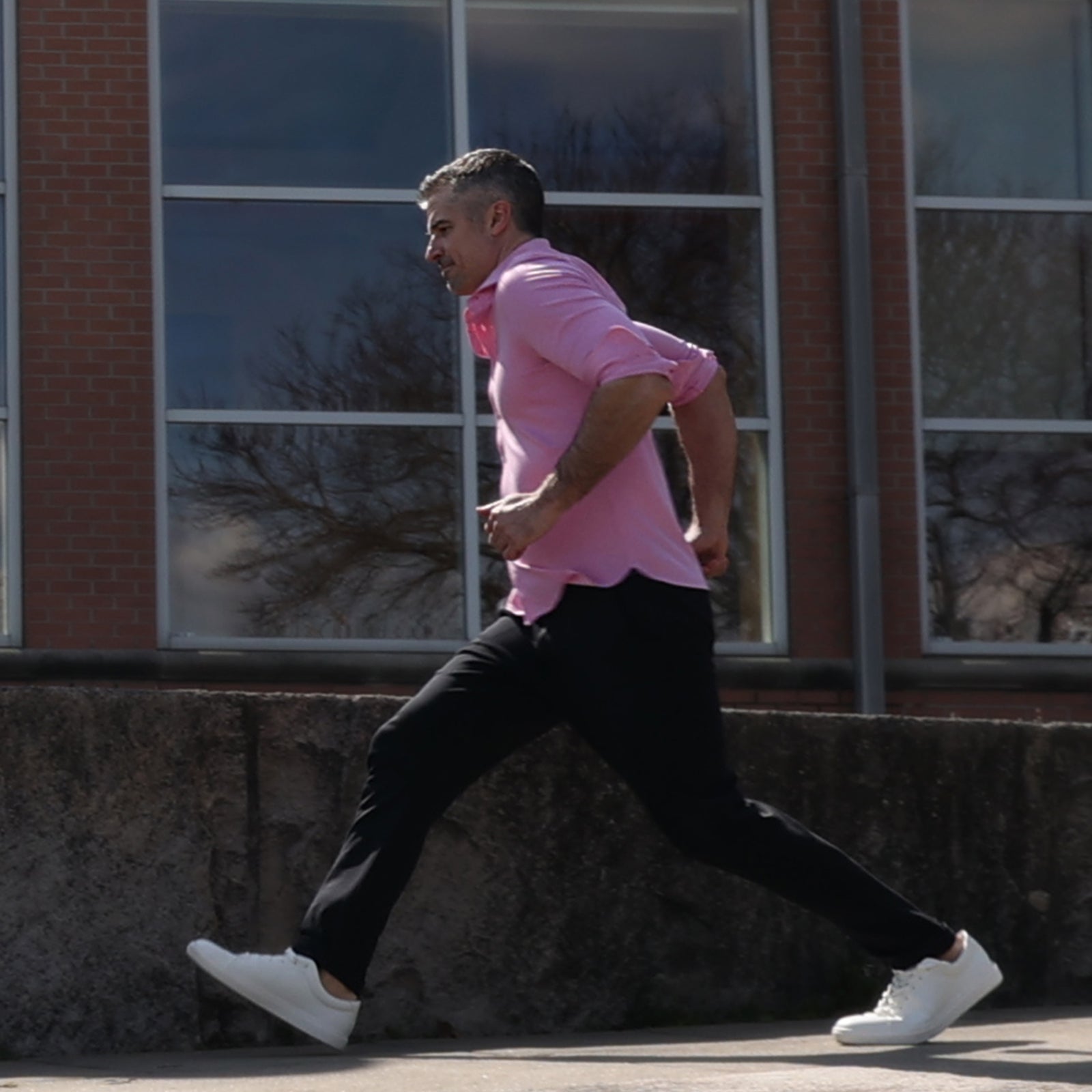 Performance
Thanks to our expertly engineered cotton knit, every NICESTUFF garment breathes, resists wrinkling, and moves with you—literally. It stretches with your every movement without losing its structure and shape. Spandex has nothing on us.
Versatility
Host a meeting in your personal zoom room or pitch a client in the boardroom. Our garments are designed to take you from one to the other because your activewear actually isn't for work—and you deserve to feel comfortable without sacrificing style.
Ready to dress smarter?
Shop the smarter choice for your comfort, style and sex life—yeah, we said it. Irresistibly soft so no man goes home alone.