WHY NICE STUFF CLOTHING FOR MEN?
You work hard and you hustle. You deserve to wear nice stuff—and we're not talking $120 sweatpants—we're talking pants that feel like sweats, but look like expertly tailored, perfectly fitted designer pants worthy of the runway. Don't take our word for it: Scroll and see for yourself.
Our Fabric
Ultra-fine like the men who wear it
We get it: You see "cotton" on the label and think it's just another cotton shirt—we don't blame you. Fabric isn't a men's game—it's a designer's game. So, as designers, take it from us: Our 100% cotton, ultra-fine mélange yarn is the king of cottons. The kind of cotton you can't stop touching and won't want to take off—you know, until someone wants to take it off for you.
✔️ Makes work clothes feel more like activewear
✔️ Moves with the body—never slinky or clingy
✔️ Holds its body and structure with wear
✔️ Made without the use of harmful chemicals
✔️ Made to last, like a single-malt whiskey
Comfort without compromise
Comfort
What do you wear when you can't wear a t-shirt, sweatshirt or sweatpants? The short answer: Any NICESTUFF garment. Why? Because we work with an ultra-fine cotton that's softer than the fleece lining inside your sweats.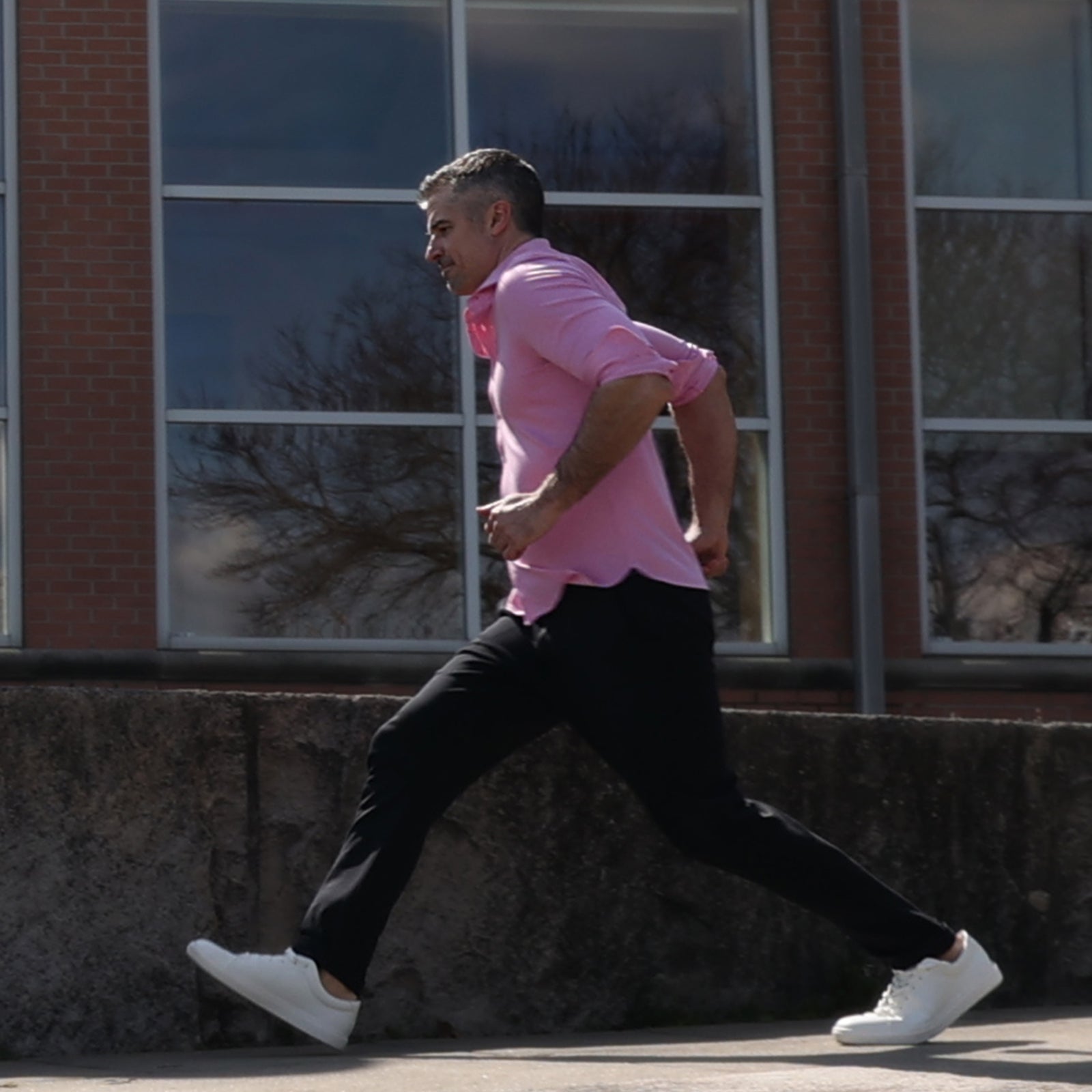 Performance
Thanks to our expertly engineered cotton knit, every NICESTUFF garment breathes, resists wrinkling, and moves with you—literally. It stretches with your every movement without losing its structure and shape. Spandex has nothing on us.
Versatility
Host a meeting in your personal zoom room or pitch a client in the boardroom. Our garments are designed to take you from one to the other because your activewear actually isn't for work—and you deserve to feel comfortable without sacrificing style.
OUR APPROACH
Design first, marketing second
Look, today anyone can launch a clothing brand with an MBA in marketing. But only a designer can tailor a garment for a purpose. We don't just add spandex to make a garment stretch like the next guy. We—get this—design the garment itself to stretch. We engineer the fabric for a purpose, whether that's comfort or performance—or, in our case, both. Sure, marketing may sell clothes, but that doesn't mean they're good clothes. Ours are.
Ready to dress smarter?
Shop the smarter choice for your comfort, style and sex life—yeah, we said it. Irresistibly soft so no man goes home alone.